The 2023 Mighty Meals Food Distribution event was held on March 11, 2023 at the old Sears parking lot at Governor Square Mall.
In direct response to our basic needs impact area, JLT launched Mighty Meals in March 2020. This program is one of its kind and aims to assist in the fight against childhood hunger and food insecurity.
The latest data shows that at least one out of every ve people in Leon County are food insecure. Here at JLT we believe that no child should go hungry during school breaks – and no family should have to choose between food and utilities, transportation, rent, or medical care.
The goal of Mighty Meals is to help alleviate food insecurity and provide access to nutritious meals along with educational materials for Leon County students, and their families, during Spring Break. Each "Mighty Meals Box" distributed through our partnership with the Second Harvest of the Big Bend will feed a family of four three nutritious meals each day, for the seven days of Spring Break. With help from our sponsors and partners, Junior League members personally oversee the development of the box contents, purchase of grocery items, packing and distribution of each meal box.
Year after year we continue to ensure no child goes hungry during Spring Break. In the 2022 food distribution event, JLT served over 29,000 meals. JLT is committed to expanding our reach to serve more families that will benefit from this assistance.
Want to know how you can help? Contact us at [email protected].
The 2023 food distribution event is in partnership with: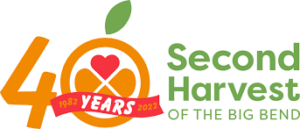 ---
Thank You To Our 2023 Sponsors!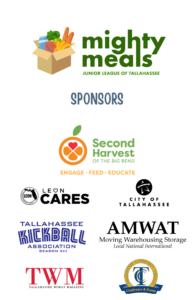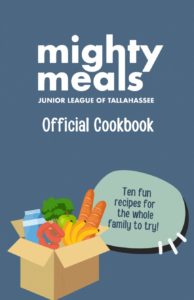 Click to download the Official 2023 Mighty Meals Cookbook